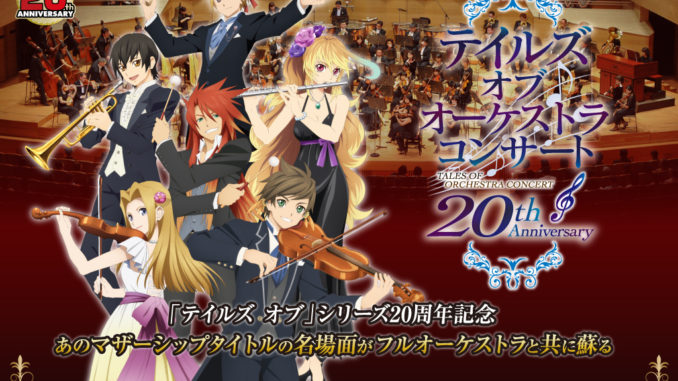 As announced way back, Japan will be having a Tales of Orchestra this December 9. Here is part of the expected pieces that will be performed at the event.
Yume wa Owaranai ~Kobore Ochiru Toki no Shizuku~ (Tales of Phantasia Opening Theme)
progress (Tales of Xillia opening theme)
Sorey's Theme ~Shepherd~ (Tales of Zestiria)
Hotarubi (Tales of Legendia)
Tales of Boss Battle Medley (consisting of the following five songs:

DECISIVE (Tales of Phantasia)
Lion ~Irony of Fate~ (Tales of Destiny)
COUP DE GRBCE (Tales of Destiny 2)
Scutum - decisive battle (Tales of Rebirth)
Tagai no Akashi no Tame ni (Tales of Xillia 2)
This is only part of the entire line-up and there will apparently be more.
Tales of Orchestra will be on December 9, 2015 and will be held at the Tokyo International Forum Hall A. The performance will be by the Tokyo Philharmonic Orchestra. Doors will open at 6PM, while the performance will start at 7PM Japan time.
All tickets are currently sold out, but they're holding additional selling of the S seats over at Loppi Tickets.