New infomation for Tales of Asteria was revealed during the Tales of Asteria segment of Bandai Namco's recent Nico Nico Douga stream.
(Information & Images c/o Famitsu)
Tales of Asteria 3rd Chapter: The Land of Crystal & Guiding Light
Regarding Tales of Asteria's 3rd Chapter, joining Sorey & Mikleo as main characters is Tales of Destiny's Stahn Aileron. Also, Gaius will once again have a major role in this Asteria chapter.
This chapter's opening song is "We Belong" by BONNIE PINK, marking her return to the Tales series after Tales of Vesperia in 2008. This song, along with some new animation clips are featured in the latest Asteria TV Commercial here:
Tales of Asteria 2nd Chapter: The Saviour of Light & Darkness
With the new chapter coming in, the current chapter is about to reach its end and the stream revealed a new character who looks a lot like Kannono. The final scenarios that will more than likely detail her origins will be coming out soon.
Other Information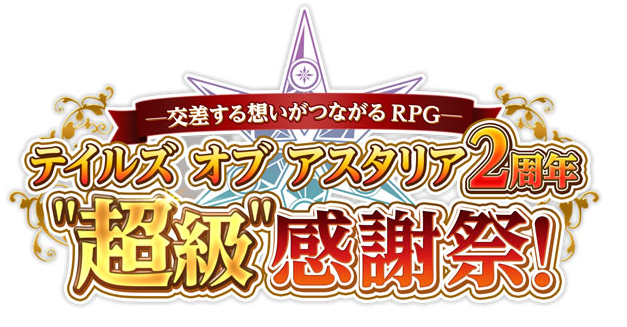 There will be a 2nd Anniversary Tales of Asteria Stream on Nico Nico Douga hosted by voice actors
Masaya Onosaka
(Zelos Wilder, Symphonia),
Chihiro Suzuki
(Luke fon Fabre, Abyss) &
Kanae Ito
(Kannono Earheart, Radiant Mythology 2). It'll occur on April 3rd, 2016.
There will also be an Asteria collab with Merc Storia in the future.
Tales of Asteria is available on the Japanese iTunes & Google Play store.