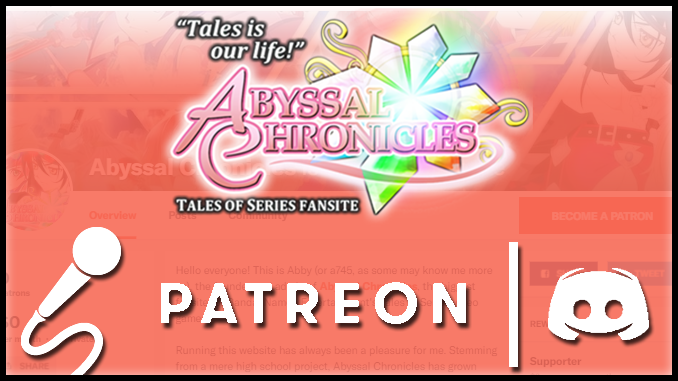 Today is the launch of our biweekly podcast, AC Radio to complement the release of our both our Patreon page & Discord. The first episode is free!
To those curious, here's the reason why we've started a Patreon page. Abyssal Chronicles started out as a high school project by a745 in 2006. Since then, Abby and the rest of the staff she assembled worked hard to bring to the Tales community the latest in Tales news and create contests for the community to participate in. Even though we do get a bit of prize help from Bandai Namco with a Collector's Edition and what not, every other prize is fulfilled by the staff's own pockets. Not only that, but outside of a small donation button on the site and the affiliate links that generate some revenue, the remaining balance to cover the costs for the domain & server are also fulfilled by our own pockets. We've kept this site alive with our own funds to express our love for the Tales series by contributing to its community. However, as the site (and the staff) continues to grow, so do the demands we face.
This includes the malware attacks we've encountered as well. Each time we were infected, it was mostly myself and Abby looking through the code and fixing them manually. However, the attack that we got late last year was so severe that we had to turn to a professional security service, Securi, to protect our site. The problem was, that--alongside the recent finances we have to recover from our 10th anniversary contest in late 2016 and server costs--placed us in a bit of hole, which is why we turned to you for help this past December. We did not expect the amount of support we received to come so promptly from you all during our time of need.
The thing is, Abyssal Chronicles has grown so much that us staff needed to find a way to generate revenue from it to maintain not just the site costs & contests, but to also protect it from malicious virus attacks. It took us much deliberating to do this, as we've kept the site alive ourselves without outright asking for financial help, but the demands of the site has gotten to the point that it also started to heavily affect our personal lives. Because of this, we've decided to turn to you once more, and that's why we've decided to create a Patreon page.
Our Patreon will maintain the integrity of the site since 2006. At this time, we only have one tier to offer. Just for $3 USD a month, you will have access to the following:
Early access to AC Podcasts that are related to the Tales series a week before they're released to the public.

At this time, we only have one biweekly show: AC Radio.

You will have access to the AC Patron role on our AC Discord server.
PLEASE NOTE THAT NEWS COVERAGE & MAIN CONTESTS WILL NOT BE PATREON EXCLUSIVE. As I mentioned before, we still aim to maintain the integrity of the site with the push of our Patreon page. This is just a way for us to give back to those who support us financially--especially during our Malware attack a couple of months ago.
---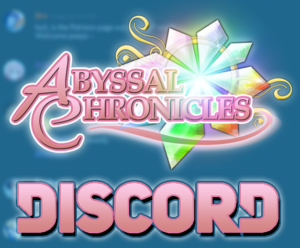 We now have a Discord channel open to the public! Click the image above for more details~!
---
AC Radio is a biweekly radio show hosted by myself, PanbanRichard, as I'm joined by staff and guests to respond to the latest in Tales of news or other Tales of topics. The topics can range from game discussions, character breakdowns, recaps of anime shows, and more. Be sure to tune in biweekly as we indulge ourselves into the Tales of franchise~
Early access of the show will be exclusive to AC patrons. Thereafter, the episode will be made available to the public a week later.
To complement the release of our Patreon, we have the first episode of AC Radio on Youtube up right now! That way, you can get a bit of an idea as to what to expect from the show:
AC Radio 01: Tales of Festival 2018 Speculations (06/03/18)
Hosts/Guests:

PanbanRichard (AC Staff Admin; News and Content Writer; Back-end Support)
DimensionSlip (AC Staff News and Content Writer)

Description:

Tales of Festival 2018 is coming around the corner, and we explore our speculations and wishes for what'll happen this year. We discuss the possibilities of a Vesperia or Legendia remake, what we'd like to see in a completely new title, and the mobile game movement among other items.
The next episode will be released right after Tales Festival 2018 on June 17th/18th with our reactions to the event! Once again, you can access it early if you are an AC patron.
---
At the end of the day, we'd like to thank our followers for the support you've provided us throughout the years, and here's another opportunity for you to do so with some added perks from us~