a.k.a. I spent 90% of the time playing Tales of Berseria as Eizen.
A little notice: Momo, a personal friend of mine and a long-time Tales fan I've known since forever, has been helping us out with a lot of Tales Japan-related events such as Tales of Festival's previous years and whatnot. As of this month, she is now officially part of Abyssal Chronicles' staff! So please give her a warm welcome! – a745/Abby
I had been lucky enough to have been chosen as a player for the Berseria game demo at Bandai-Namco's HQ over at Minato Ward. In all honesty, I didn't expect to get picked for this, all because my luck with these kinds of things are rather low. Still, I made sure not to let this opportunity pass, and prepared myself for it.
I got to Tamachi Station, and got a bit lost...but as soon as I saw the logo of Bandai-Namco on one of the buildings, I made a rush for it. When I passed by a guy who was carrying a bag with the design of Zestiria The X and Berseria on it, I knew I was going to the right direction.
Finally made it around 11:10AM or so.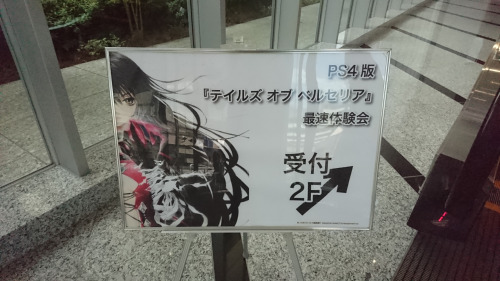 Made my way up and registered.
I was part of Group 4 for the game demo, so we were asked to wait in the lobby for a bit. I used the opportunity to take some photos. This was near the reception desk:
Around 11:30AM, we got called by the staff member and were led up the 4th floor.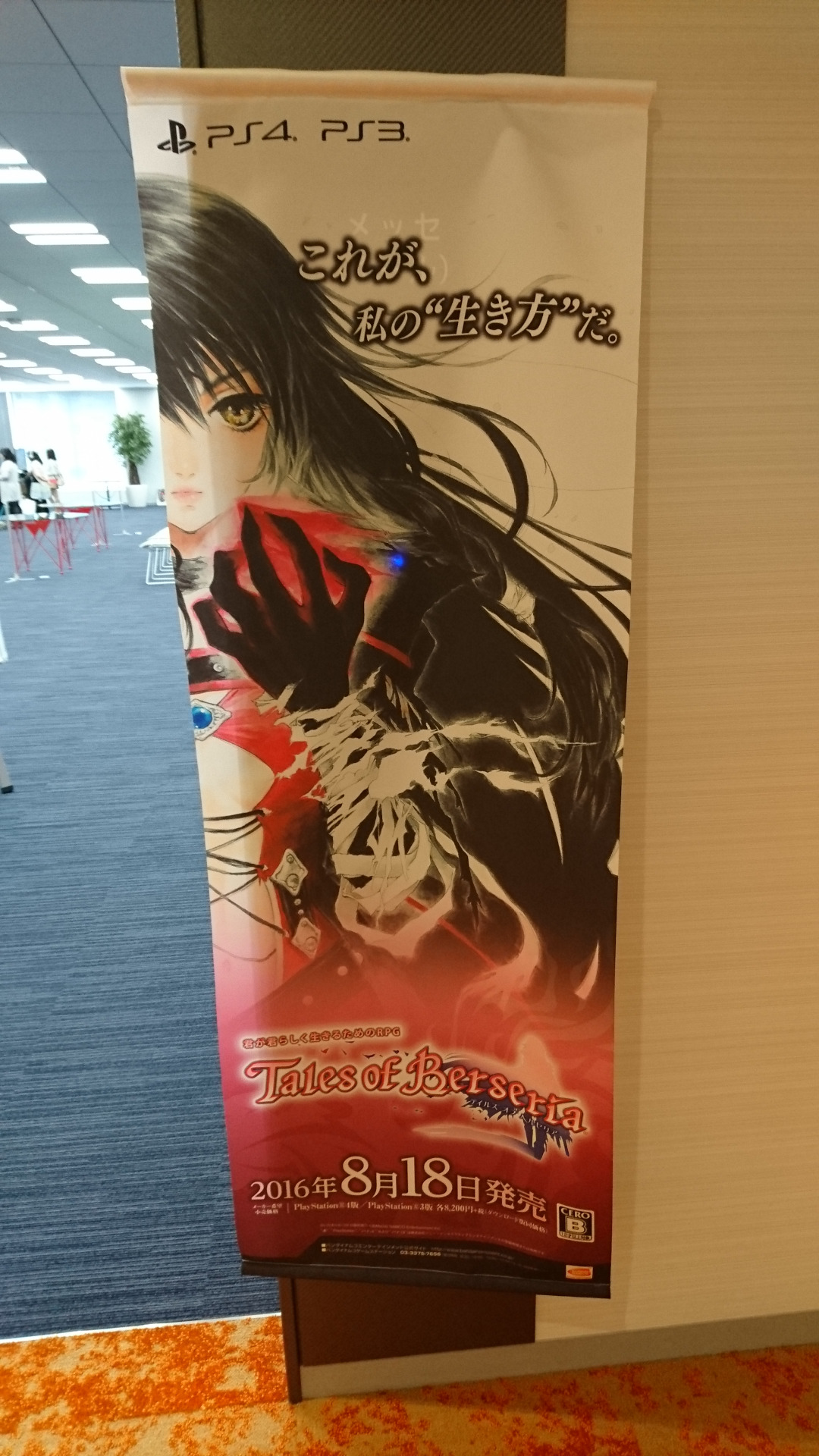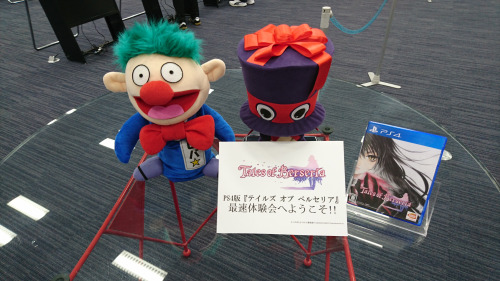 Viva-kun, Bienfu, and the game case for PS4 Tales of Berseria.
(Screenshots, picture of controls and some scenes from Famitsu. We weren't allowed to take pictures of the actual gameplay/screen/instructions)
We were given some 20~30 minutes to play both the Story Mode and the Battle Mode.
Graphics are considerably more detailed and vibrant as compared to Tales of Zestiria, and character movements in the story mode seem a bit more refined, too. The camera on the field seems a bit too sensitive, especially when making turns, though.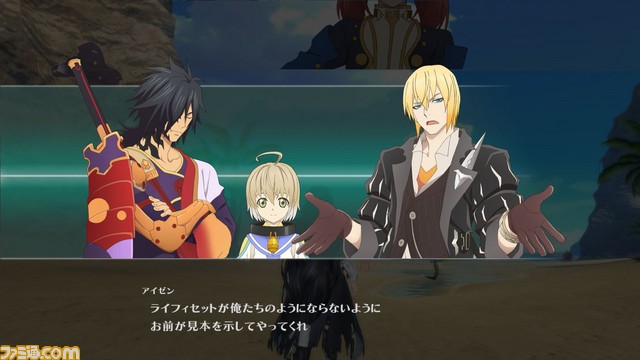 The new animations on the skits/chats are much more fun and dynamic, and I'd say they're perfect.
Unlike in Tales of Zestiria, battles are now back to the usual transition in between field and battles. The camera for battle is now more stable and manageable as compared to Zestiria, so you can rest easy on that.
Most of the time, I played using Eizen because I'm a close-combat type of person, as well as Velvet. Eleanor was a distant third because of her weaponry. Magilou, on the other hand, was a bit hard to control because she moves rather slow and attacks slow too. Her magical abilities, on the other hand, were very damaging.
Break Soul can be activated with the R2 button, while Mystic Artes were performed by holding L2 and attacking while in Break Soul mode. There's a requirement of 3 BG to perform a Mystic Arte.
(My apologies, but because I lacked the time to do so, I was unable to use Laphicet and Rokurou during the demo.)
To be honest, my only gripe was the fact that the music was too low (we weren't allowed to adjust it during the demo), and that the play time was too short. What they got right, however, would be my thirst to finally play the game this August.
Damn it they got me.
Overall though, I see Tales of Berseria as a much more mature game as compared to previous titles, maybe almost at par with Tales of Xillia 2.
Right after our demo, we were led to another room in the same floor to watch the opening movie of Tales of Zestiria The X. Velvet appeared twice in the opening.
After that, the seiyuu cast for the game got interviewed, and we were shown a video of it.
Highlights:
Bienfu's seiyuu (Nagasawa Naomi) said that the hardest part during the recording is saying Bienfu's lines very fast. There were times wherein they had so many takes.
On the day of the interview, Magilou's seiyuu (Satou Satomi) was wearing a dress that had a Magilou feel to it (color of the dress, as well as the patterns).
Laphicet's seiyuu (Asakura Azumi) said that the audition for Tales is very different from the other series she went to because Tales audition required her to say the lines for Laphicet in different situations and in different ways.
Rokurou Rangetsu (Kishio Daisuke) thinks that his character is the big brother type to Laphicet, as the latter needs a big brother figure.
Eizen (Morikawa Toshiyuki) thinks of his character as the whole party's big brother figure (aniki), and that despite Eizen and Laphicet both being Malak, they're different from one another (is that some kind of foreshadowing?).
Eleanor Hume's seiyuu (Koshimizu Ami) reminded all of us to enjoy the game's main story, the sub-quests, up until the ending. And finally...
Velvet's seiyuu (Satou Rina) admitted that the first time she saw Velvet's character design, she knew she just had to get the role by all means.
After the seiyuu interview videos, we were led again to another room to fill in a survey. One part of the survey asked us what suggestions we have for the Tales of Series.
I wrote: "What do you think about twin protagonists? I think that would be interesting."
Abyss doesn't count; they're not twins.
After I filled in the survey, I gave it to one of the staff members, and he handed me a goody bag!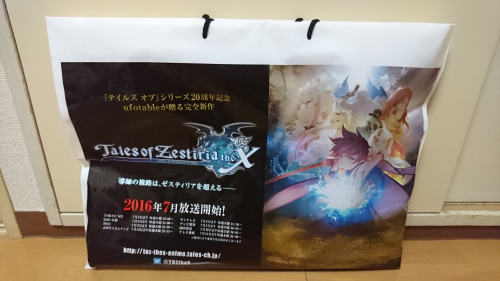 Contents: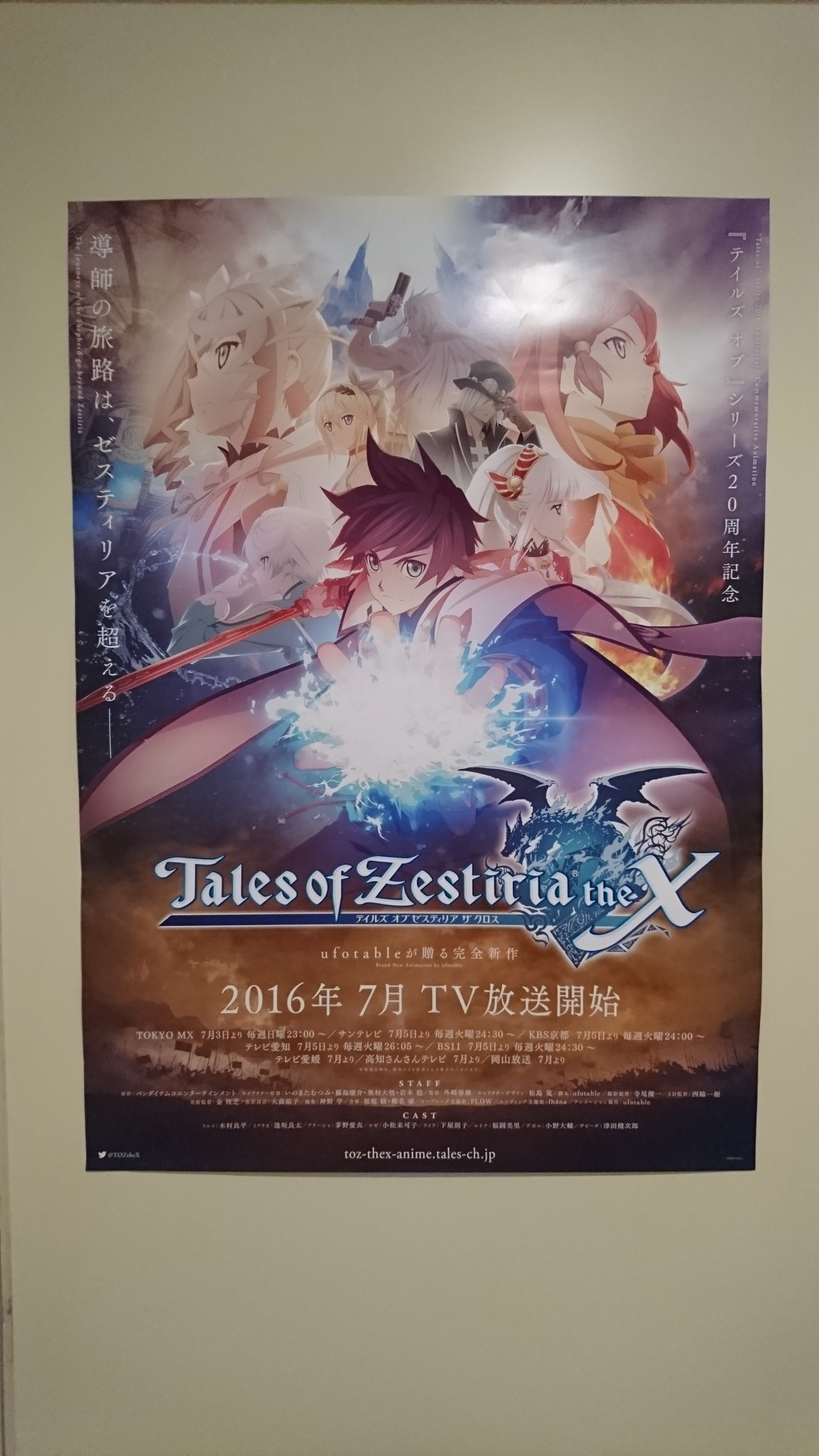 Tales of Zestiria The X poster. I will see this poster every time I get home.
Tales of Berseria mini posters.
And that's done! 6 days left before the start of Tales of Festival 2016, but I'll be making posts as early as Day 0 (Friday), a.k.a. the start of goods-queuing hell for the fans.
Till then!
Event post also cross posted on my Tumblr.
Tales of Berseria

Tales of Berseria
is the latest mothership title of the Tales of Series which was first announced during 
Tales of Festival 2015
. The game was released for both the PS3 and PS4 on August 18, 2016 in Japan, January 24, 2017 in North America and January 27, 2017 in Europe for the PS4 and PC. The game features a female protagonist named Velvet and a theme of pirates and ships. It's also confirmed as a distant prequel to
Tales of Zestiria
.