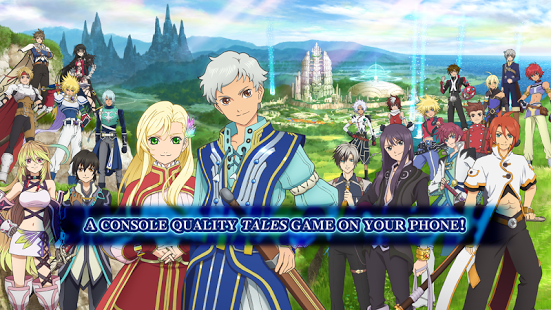 Surprise, Android users! Tales of the Rays suddenly appeared on the Google Play Store and is now available for download!
Initial file size is 64.35 MB, however there are several more downloads to do after launching the app so make sure you're connected to a Wi-Fi connection when you boot it up.
To structure it out: Two downloads occur first for the main assets. After the tutorial battle and the first anime cutscene, a larger download occurs, which leads to an overall file size of 497 MB.
UPDATE (07/26): Now available on the iOS App Store! (iTunes Link)
Tales of the Rays

Tales of the Rays
is a Tales mobile game for the iOS and Android featuring characters designed by Hidenori Matsuraba and a new ADF-LMBS (Advanced Flick Linear Motion Battle System). The game tells the story of hero Ix Nieves and heroine Mileena Weiss in the world of Tir Na Nog. Characters from the previous Tales titles appear in this game. The game initially had an English version, but was short-lived and now currently runs exclusively in Japan.