The last event in January has begun: A crossover with the Anime "Is it Wrong To Pick up Girls in A Dungeon?" Also known by the name DanMachi. This is the last event in January and brings us new characters and costumes, check them out here!
The two characters coming in from DanMachi are the protagonist Bell Cranel and heroine Ais Wallenstein.  Like usual, they each come with a Gacha Mirrage Arte, a 5* Master Arte and an alternate costume you can unlock by rolling their Gacha Mirrage Arte or scoring enough on the raid. The returning featured characters to get artes and costumes based on DanMachi are Tear, with a costume based on Hestia, Arche who gets a costume based on Ryuu Lion and Lailah with a costume based on Sanjouno Haruhime. Each Tales character will not only get a costume, but also a Collaboration Mirrage Arte and a new Collaboration 5*, like usual. In this particular case, all three Tales characters will also get Reverse 5* artes due to not having one before. Despite being introduced during this collab, the Reverse 5* artes will not be limited to it, and will be available in future banners for the characters!
Firstly, here's a full timetable of things to keep in mind for this event. There's also a rerun currently ongoing featuring the Alice and Decus Valentine's event from last year, so be sure to clear that for the dia as well! Finally, the day this event started (and the time of this writing) is also the very last day to clear the Anniversary Boss Challenge, so be sure to do that as well if you haven't. Arte and costume previews will be at the bottom of the article like usual.
| | | |
| --- | --- | --- |
| Tales of The Rays x DanMachi Raid | Start Time | End Time |
| Event Quests/Raid | January 31, 14:00 JST | February 12, 10:59 JST |
| Gacha Banner/Step Ups | January 31, 14:00 JST | February 12, 10:59 JST |
| Gacha Banner Grade Shop | January 31, 14:00 JST | February 12, 23:59 JST |
| Gacha Tickets | January 31, 14:00 JST | February 12, 23:59 JST |
| Tower Of Ancient Progenitors - February 2021 | January 31, 14:00 JST | February 27, 23:59 JST |
| All-Out-Battle Tower - February 2021 | January 31, 14:00 JST | February 21, 19:59 JST |
| Alice and Decus Valentine's Rerun Quests + Banner | January 27, 14:00 JST | February 10, 10:59 JST |
Let's talk about the gacha. There are Two Step Up Banners and a regular banner with a Free Single and a Free Multi. There's no reason not to take advantage of the free pulls, especially since there's no inventory limits! The format is similar to the Slayers event: we have a paid Mirrogem Step Up (this time only for the Tales characters), and a partial Dia Step up (only featuring Bell and Ais). The Dia Step Up banner appears second, on top of the list, and each step increases the chances of getting a Gacha Mirrage or 5* Arte for Bell or Ais, and some steps even guaranteeing one or the other. You also get tickets along the way. However, Steps 6 and 7 do not take Dia, instead being mirrogems only. If you don't want to pay, you're still guaranteed to get at least one Mirrage Arte for Bell or Ais by step 5, and potentially a 5* or second Mirrage Arte as well. It's highly suggested to take advantage of the steps for the guarantee!

If you exhausted the step ups but aren't satisfied, there's also a regular banner featuring Bell and Ais, and a separate regular banner strictly for the Tales characters. Despite all the banners, all 4 of them share Grade, so if you have enough dia and wish to use the Grade system for a guaranteed 5* or even a Mirrage Arte, the step ups and free multi should help you regardless of which banner you want to use the Grade on! In order to use the Free Single and Free Multi, look for the options with 0 cost. On the Bell and Ais banner, the Mirrogem option for a single pull will have 0 cost and the dia option on a multi pull will as well. Once you use those they'll go back to the regular cost, but you'll get grade as if you paid!

Next, here's a list of the home screen panels and their missions. By completing these panels, you not only get a ton of dia, but also free guaranteed Mirrage Arte tickets! There's only one panel for most players, but new players get a second new player focused panel as well.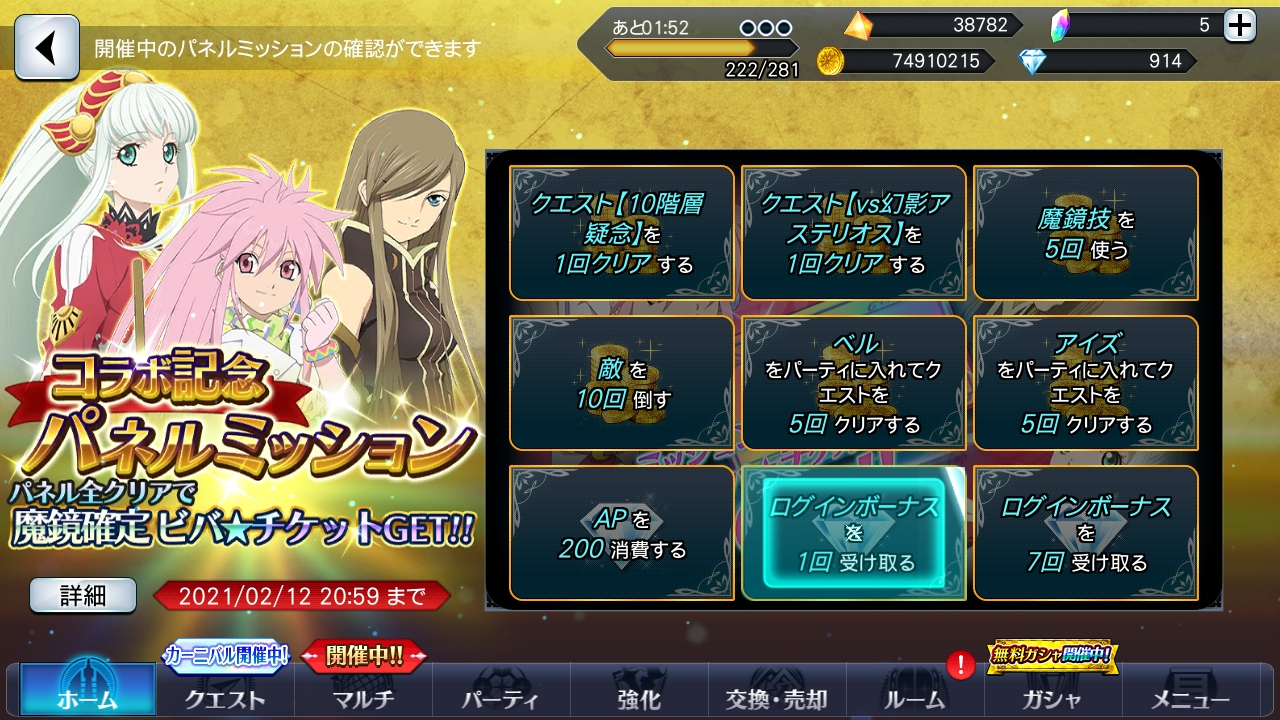 | | | |
| --- | --- | --- |
| Clear Tenth Collab Story Quest | Clear A Quest Against The First Raid Boss | Use a Mirrage Arte 5 Times |
| Defeat 10 Enemies | Clear 5 Quests With Bell In Your Party |  Clear 5 Quests With Ais In Your Party |
| Use 200 AP in total | Log Into Rays once (collect a log-in bonus!) | Log Into Rays on 7 separate days (collect log-in bonuses!) |
There's also a second new panel for new and returning players, but as it's only available to them we're unable to screenshot and/or translate it. (If it's available to you and you're unable to clear them on your own, feel free to send us a screenshot through a comment here or on our social media or discord and we'll update the article!)
Now let's get into how the event works. There's two parts: story quests and the raid itself. You must clear the event's story quests before you're able to access the raid. Thankfully, they're quite easy! You'll also recruit Bell and Ais through these quests, and even if you already got them through the gacha you must still reach their recruitment quest to get their first skits. Once you've cleared all the story quests, the raid will unlock as a separate set of quests in the event tab.

The raid works like any other raid: select a boss' icon then clear each of its quests and repeat the highest difficulty you're able to consistently clear fast to build up points. When all players cumulatively reach certain thresholds, the next difficulty unlocks, and it keeps going until the raid is completed, at which point higher difficulties will unlock, allowing for more efficient options for each player to farm and score higher on. In addition to the total cumulative score between all players contributing to clearing the raid, the individual total score each player has gives them free rewards as they reach certain thresholds. You don't have to earn currency to buy out a shop- just reach a certain amount of points, and you'll get the right rewards from a list!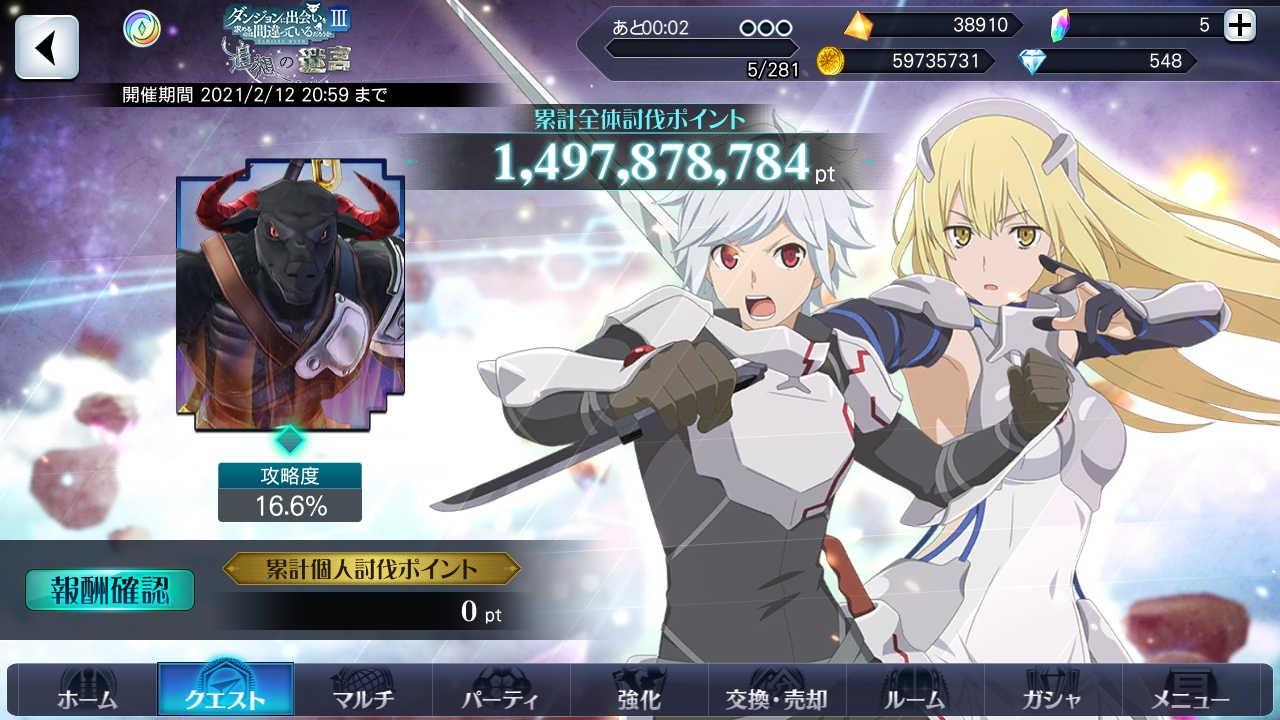 Now, what score should you aim for in the raid? The minimum to aim for should be 160,000 points. At that milestone, you'll get every level uncapping Mirrage Shard as well as all copies of event weapons for Bell and Ais, which will also give you dia. Don't stop once you reach that, though. Go as high as possible for as many free rewards as possible. The highest is 3 million, which you'll definitely need to spend dia on AP refreshes for, but it's definitely worth it: the final reward gives you a Mirrage Select Ticket for Bell or Ais. If you only managed to get one of their Mirrage Artes from the step ups, then the select ticket will guarantee you get the other one, without having to gacha at all, since the ticket lets you choose which of the two you want!

Hopefully that event explanation was simple enough! And as promised, here are the Arte and costume previews:
Bell Cranel
【お知らせ】
こんばんは。運営です。
近日公開のダンまちⅢコラボイベントで参戦する主人公ベル・クラネルを紹介です。
ベルは小回りの利く剣技を持ち、ファイヤボルト連発で中距離の立ち回りが出来ます。
魔鏡技は英雄願望(アルゴノゥト)。英雄への想いから発現したスキルです。#danmachi#ザレイズ pic.twitter.com/oetZakfWgy

— 【公式】テイルズ オブ ザ レイズ (@talesof_therays) January 27, 2021
Ais Wallenstein
【お知らせ】
こんばんは。運営です。
近日公開のダンまちⅢコラボイベントで参戦するアイズ・ヴァレンシュタインを紹介です。
「剣姫」と呼ばれる彼女は自身の移動速度を上げる能力を持ち連続使用で周囲の味方にも効果を及し、高速移動を伴った剣撃で宙を舞い敵を圧倒します。#danmachi#ザレイズ pic.twitter.com/3zyvMdWixj

— 【公式】テイルズ オブ ザ レイズ (@talesof_therays) January 28, 2021
Tear
【お知らせ】
こんばんは。運営です。
近日公開のダンまちⅢコラボイベントに登場するティアのコラボ衣装とコラボ魔鏡技を紹介です。
ティアのコラボ衣装は神様ことへスティアの衣装。
コラボ魔鏡技は聖なる炎の力で冒険者達に力を与え、秘技ではジャガ丸くんを振舞まってくれます#danmachi#ザレイズ pic.twitter.com/068FNOqe2F

— 【公式】テイルズ オブ ザ レイズ (@talesof_therays) January 29, 2021
Arche
【お知らせ】
こんばんは。運営です。
近日公開のダンまちⅢコラボイベントに登場するアーチェのコラボ衣装とコラボ魔鏡技を紹介です。
アーチェのコラボ衣装はリューの衣装、木刀に乗って飛行します。
魔鏡技はルミノス・ウィンド。緑風を纏った無数の光球を一斉に放ちます。#danmachi#ザレイズ pic.twitter.com/7ySQpqLOkB

— 【公式】テイルズ オブ ザ レイズ (@talesof_therays) January 30, 2021
Lailah
【お知らせ】
こんにちは。運営です。
本日14:00~公開のダンまちⅢコラボイベントに登場するライラのコラボ衣装とコラボ魔鏡技を紹介です。
ライラのコラボ衣装は春姫の衣装で登場です。
魔鏡技はウチデノコヅチ。聖なる祝福で味方HP回復とHPの最大値上昇、術攻上昇させます。#danmachi#ザレイズ pic.twitter.com/H0Ld7MMA6Z

— 【公式】テイルズ オブ ザ レイズ (@talesof_therays) January 31, 2021
That's it for this event! Hope you enjoy playing through it, or at least the free stuff. While this is the last event in January, a new preview for February is right around the corner and with it, announcements of how Tales of The Rays will celebrate its 4th anniversary, so keep an eye out for more news on that soon!

Tales of the Rays

Tales of the Rays
is a Tales mobile game for the iOS and Android featuring characters designed by Hidenori Matsuraba and a new ADF-LMBS (Advanced Flick Linear Motion Battle System). The game tells the story of hero Ix Nieves and heroine Mileena Weiss in the world of Tir Na Nog. Characters from the previous Tales titles appear in this game. The game initially had an English version, but was short-lived and now currently runs exclusively in Japan.