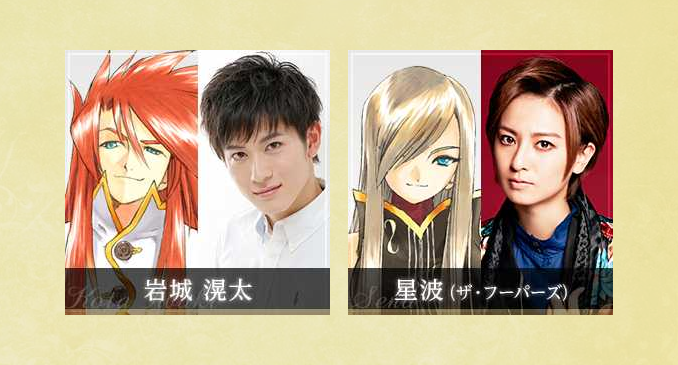 The launching of the Tales of the Stage page on the Tales of Festival website has revealed new information regarding the Tales of the Abyss stage play to be held on June 2 at Yokohama Arena.
Kota Iwaki will be taking on the role of Luke fon Fabre, whereas Sena will be taking on the role of Tear Grants for the stage play. Iwaki previously participated in Musical CHANCE and the Sanada Ten Braves stage play, while Sena is part of The Hoopers, a Japanese pop group composed of eight boyish girls.
In addition, Tetsuharu (production, composition, choreography) and Oropa Irie (screenplay) have been revealed as production staff for the play. Besides choreographing for Amuro Namie, SMAP, AKB-48, and others, Tetsuharu has worked on the Tumbling stage play series, In the Heights Broadway musical, Murder Ballad off-Broadway musical, and the following musicals: Romeo and Juliet, Rock Opera Mozart, Touken Ranbu ~Bakumatsu Tenrouden~, The Circus!, and others. Irie's recent works include Musical Samurai 7, Musical Kamen Teacher Silver Mask, Cheer Boys!! Live Performance Stage.
For this event, there is a planned entertainment show incorporating dance and acrobatics by the actors.
Tales of the Stage is a stage play performance based on Tales of the Abyss, the Tales of Series's 10th anniversary title. It was announced to commemorate the 10th holding of the Tales of Festival.
The Tales of the Stage page can be viewed at the official Tales of Festival website.
Tales of the Abyss

Tales of the Abyss
is the eighth mothership title of the series initially released for the PlayStation 2 in Japan in the same year as
Tales of Legendia
. It is the Tales of Series 10th Anniversary title. The game was later ported to the Nintendo 3DS and was adapted into a
26-episode TV anime
by Sunrise. Abyss tells the story of Luke, a young noble whose life turns upside down upon meeting a mysterious girl named Tear. The game appears to be influenced by musical themes.