Dengeki Online updated with the announcement of New Vesperia Costumes. From what I can understand it's their "Strongest" Costumes. 
EDIT: 
These costumes are based on their strongest headgear, body armor and footgear.
Yuri: The Golden Blade
Estelle: Royal Heart
Karol: Brave Vesperia
Rita: Force Master
Raven: Dark Glorious
Judith: Dragonic Lancer
Repede: Whirlwind
Flynn: Arc Lord?
Patty: Pirate Queen
The costume titles will be up for download from the Japanese PSN on February 10, 2010 for the usual 300 Yen each costume.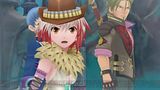 Dengeki also updated with new screenshots for Hubert and Pascal's previously mentioned costumes. As usual, we'll wait for 4Gamer's update before we upload them to our gallery. In the meantime, the screens can be found 
here
.