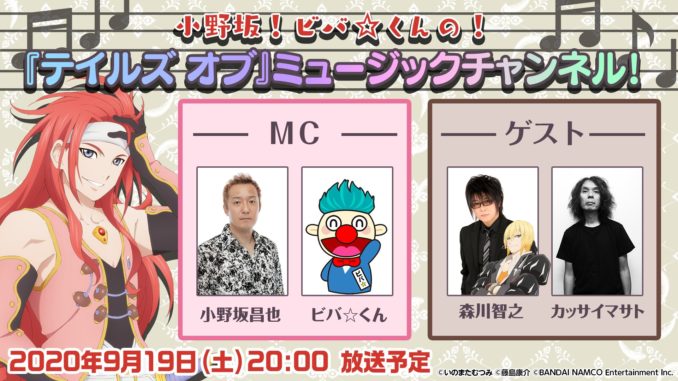 Let's listen to more music next month!
Today's Tales of Music Channel discussed the Tales of Dream Project's CD release, Junko Iwao's (Tales of Phantasia's Mint Adnade) cover of Yume wa Owaranai, the upcoming Tales of Orchestra and had Tales of Series composer Motoi Sakuraba for an interview (and performance!). It was also announced that the next Tales of Music Channel will be held on September 19, 2020 at 8PM JST.
Masaya Onosaka (Tales of Symphonia's Zelos Wilder) and Viva-kun will again be the MCs, with guests Toshiyuki Morikawa (Tales of Berseria's Eizen, who will do a cover of BURN in Tales of Dream Project so I'm guessing we'll get to listen to it then), and KASSAI MASATO as guests. KASSAI MASATO is a Japanese graphic designer and art director mainly known for his design team McLangur.