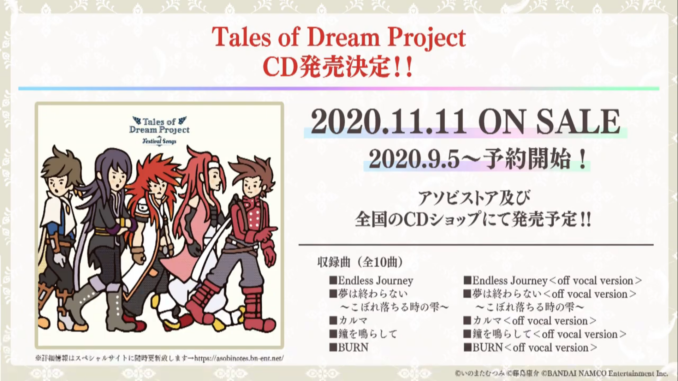 Previously announced Tales of Dream Project getting a physical release this year.
Tales of Dream Project, a music project previously announced during the Tales of Festival 2020 Alternative Live Stream, will be released as a CD this November 11, 2020. Pre-orders will open on September 5, 2020 via the AsobiStore and various CD shops in Japan.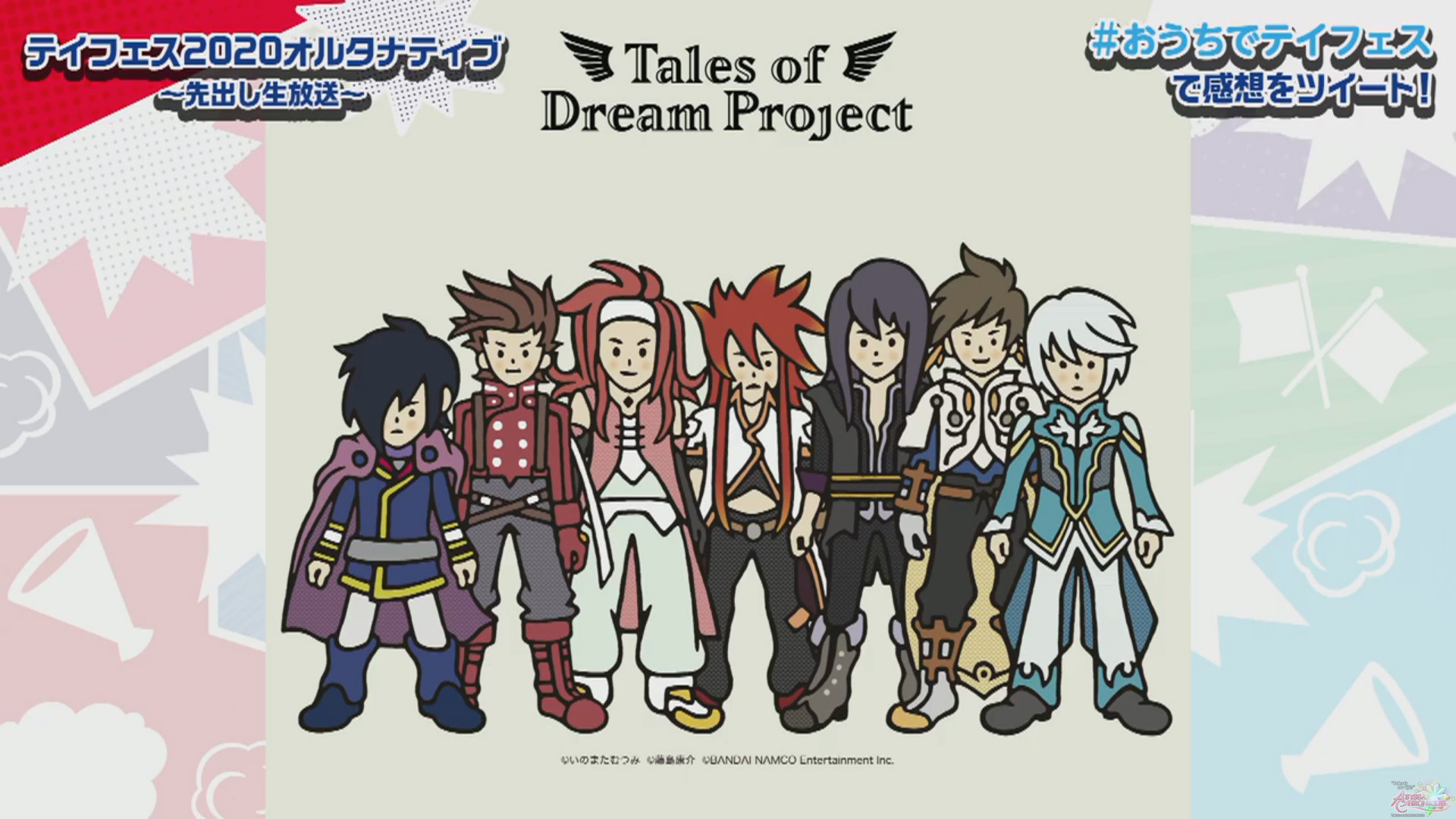 This project is a series of songs related to Tales sung by various Tales voice actors. Its first announced song, "Endless Journey", is an original song that was meant to be the theme song for Tales of Festival in general. It's performed by the Tales of Dreamers, which consist of:
Hikaru Midorikawa (Leon Magnus - Tales of Destiny)
Masaya Onosaka (Zelos Wilder - Tales of Symphonia)
Katsuyuki Konishi (Lloyd Irving - Tales of Symphonia)
Chihiro Suzuki (Luke fon Fabre - Tales of the Abyss)
Toriumi Kosuke (Yuri Lowell - Tales of Vesperia)
Ryohei Kimura (Sorey - Tales of Zestiria)
Ryouta Ohsaka (Mikleo - Tales of Zestiria)
You can stream or purchase Endless Journey at the following platforms:
Purchase:
Stream:
Other songs included in the CD are covers of some of the Tales game openings by select voice actors:
Junko Iwao (Mint Adnade) to perform Tales of Phantasia Opening "Yume wa Owaranai ~Kobore Ochiru Toki no Shizuku~ (The Dream Will Not End ~The Spilling Drops of Time~)
Chihiro Suzuki (Luke fon Fabre) to perform Tales of the Abyss opening "Karma"
Rika Morinaga (Rita Mordio) to perform Tales of Vesperia opening "Kane wo Narashite (Ring a Bell)"
Toshiyuki Morikawa (Eizen) to perform Tales of Berseria opening "BURN"
The CD will include all songs listed above, plus their off-vocal (or instrumental/karaoke) versions. Junko Iwao's cover of Yume wa Owaranai is now available for streaming and purchase worldwide. Check it out here.