New Tales of Berseria paid DLC for Japan to be released on August 25, plus more info on Artorius, Seres, minigames and special enemies.
UPDATE: The post has been updated with clearer scans.
The latest issue of Famitsu covers upcoming paid DLC for Tales of Berseria in Japan, along with additional information on Artorius and Seres, plus strong enemies in the game.
Note: all these new DLC costumes will be released August 25, 2016 in Japan, a week after the game's release there.
Full-page scans:
School Costumes
Available for all characters.
400 Yen/character.
Each character includes 3 color variations.
IdolMaster: Cinderella Girls Costumes
Available only for Velvet, Eleanor and Magilou.
Features Velvet as Rin Shibuya, Eleanor as Kirari Moroboshi, and Magilou as Anzu Futaba.
300 Yen per character costume.
Maid and Butler Costumes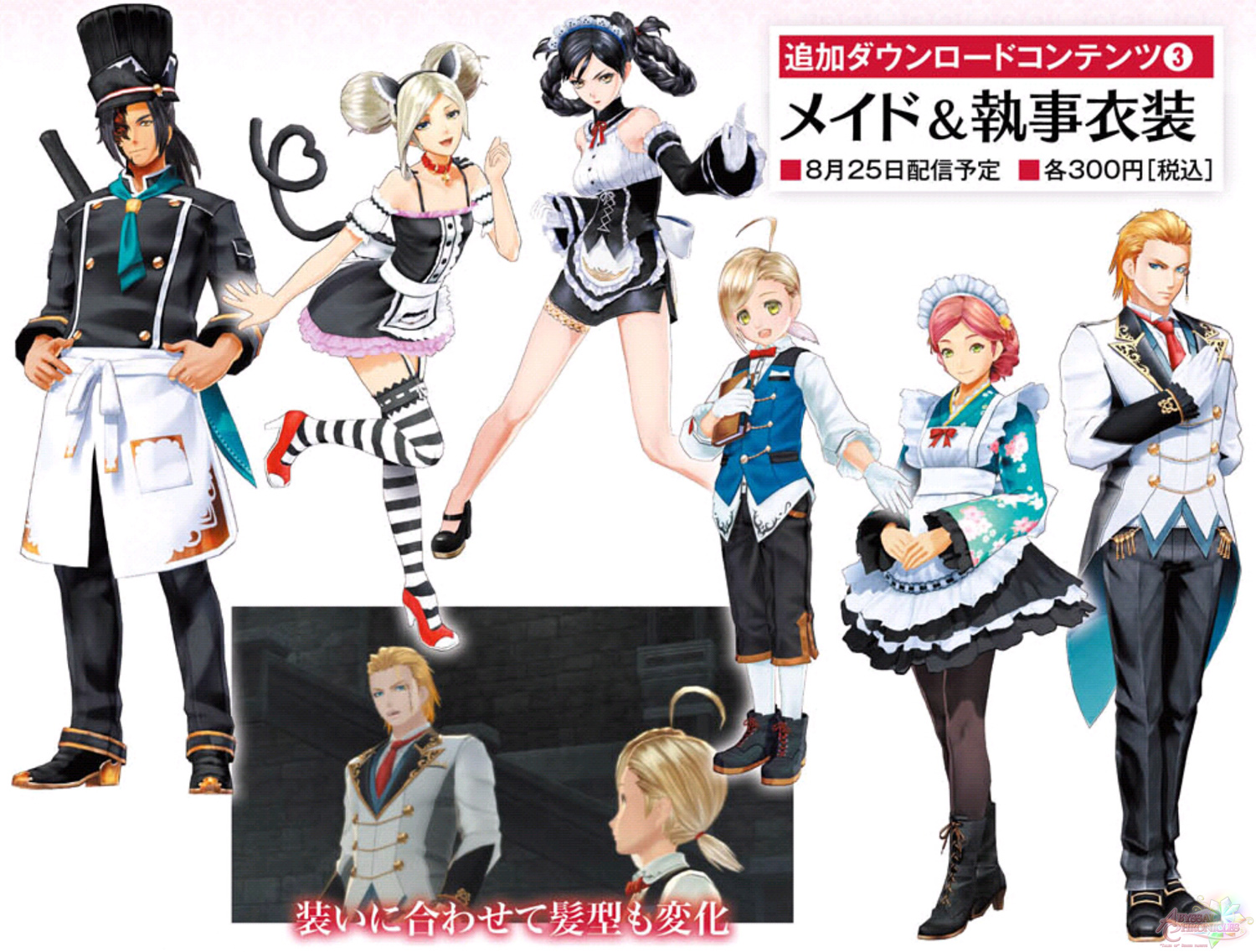 Available for all characters.
300 Yen per character costume.
Laphicet looks more like a young master and Rokurou looks like a chef.
Fairy tale Costumes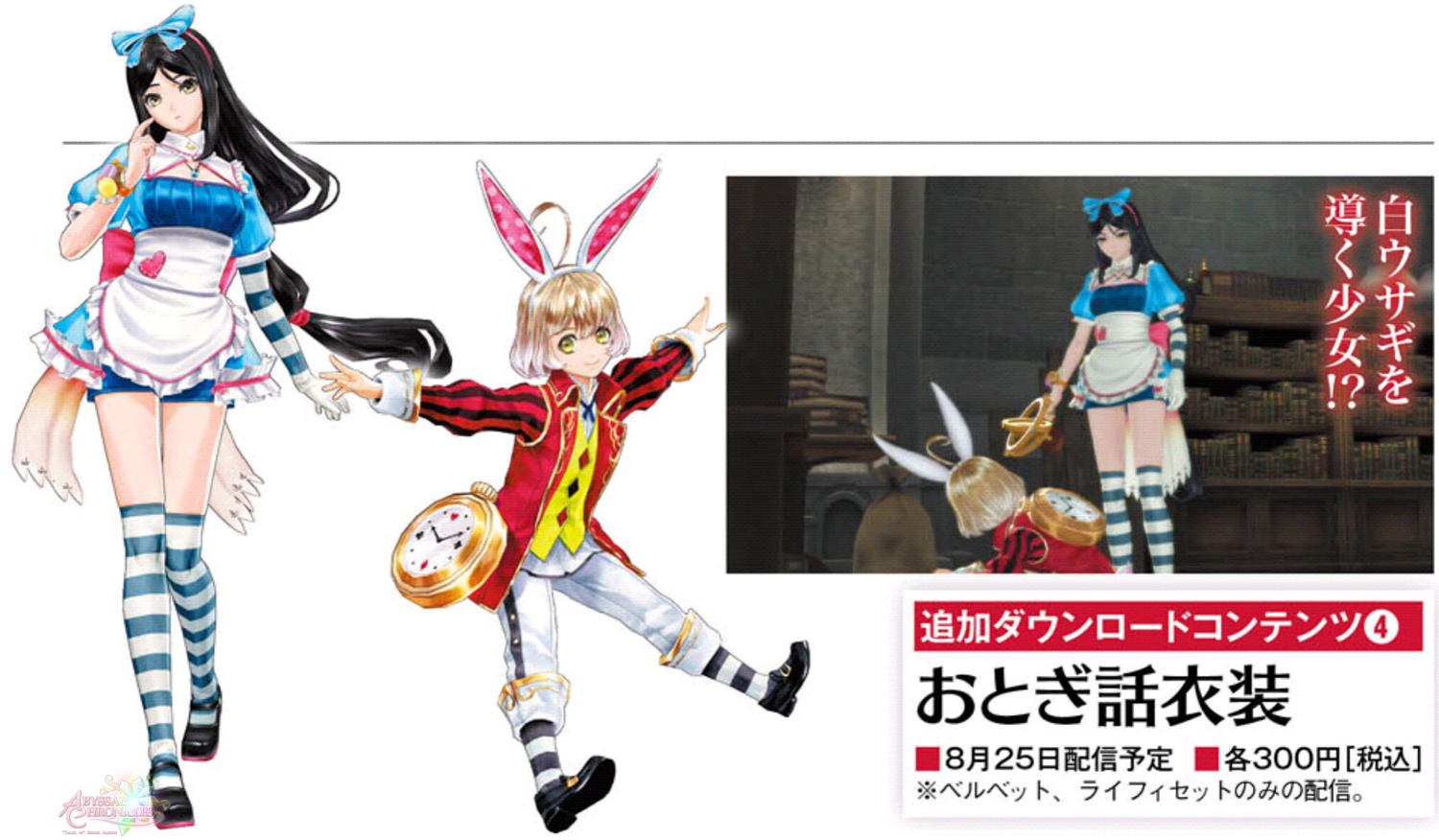 Available only for Velvet and Laphicet (WHY)
300 Yen per character costume.
Features Velvet as what seems to be Alice and Laphicet as the White Rabbit from Alice in Wonderland.
---
Additional information on Artorius and Seres were also released:
Artorius Collbrande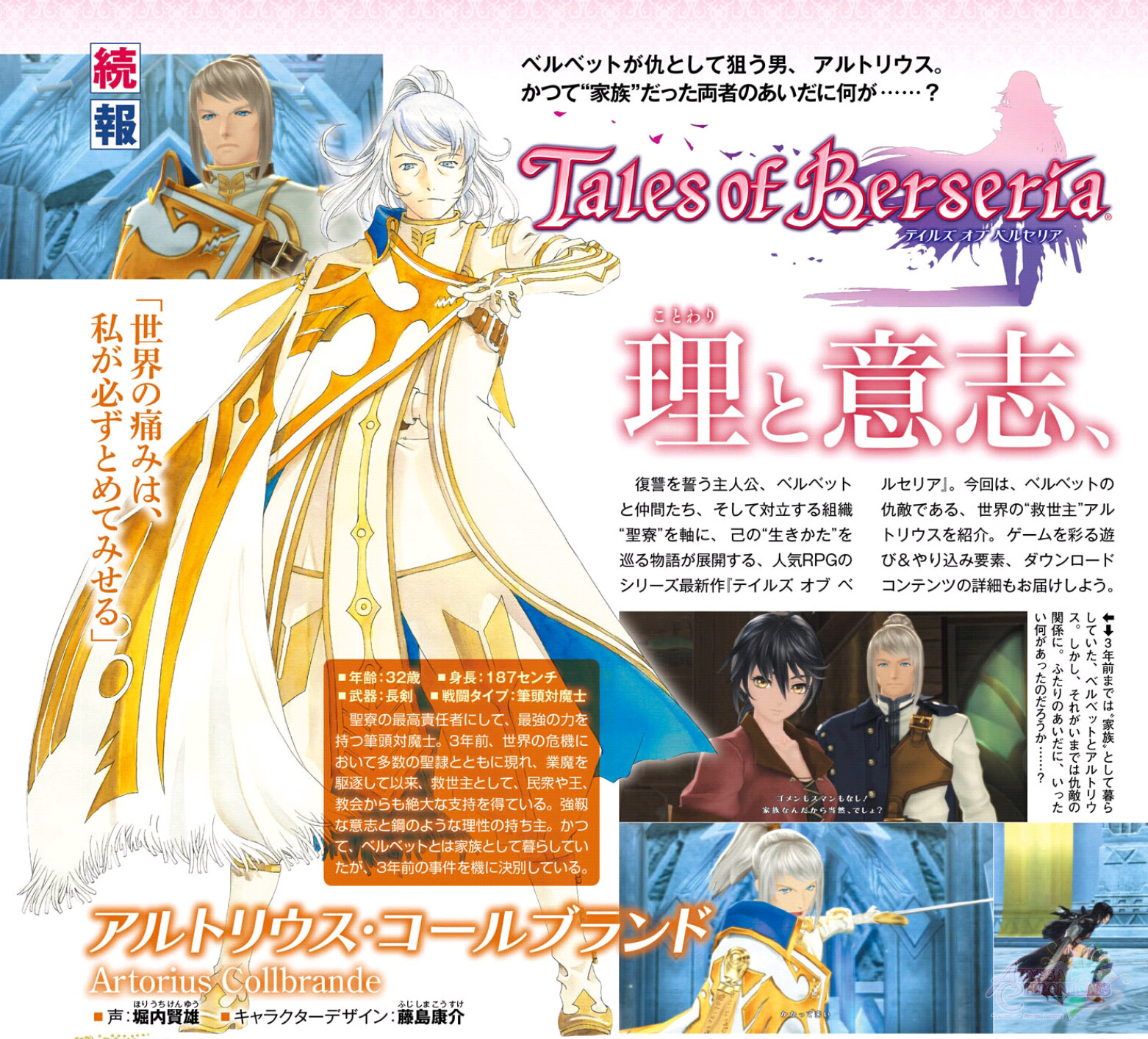 "I swear to you all that I shall put an end to all the pain in this world!"
Age: 32
Height: 187 cm
VA: Kenyu Horiuchi
Designed by: Kosuke Fujishima
Weapon: Long sword
During the crisis that befell the world 3 years ago, he suddenly appeared together with a large number of Malaks. They exterminated the Daemons at that time and has been regarded as the "Savior" ever since. He is a man who holds tremendous will and a steel reason.
Other things of note: Velvet and Artorius aren't actual siblings. Velvet just calls him brother for some reason.
Seres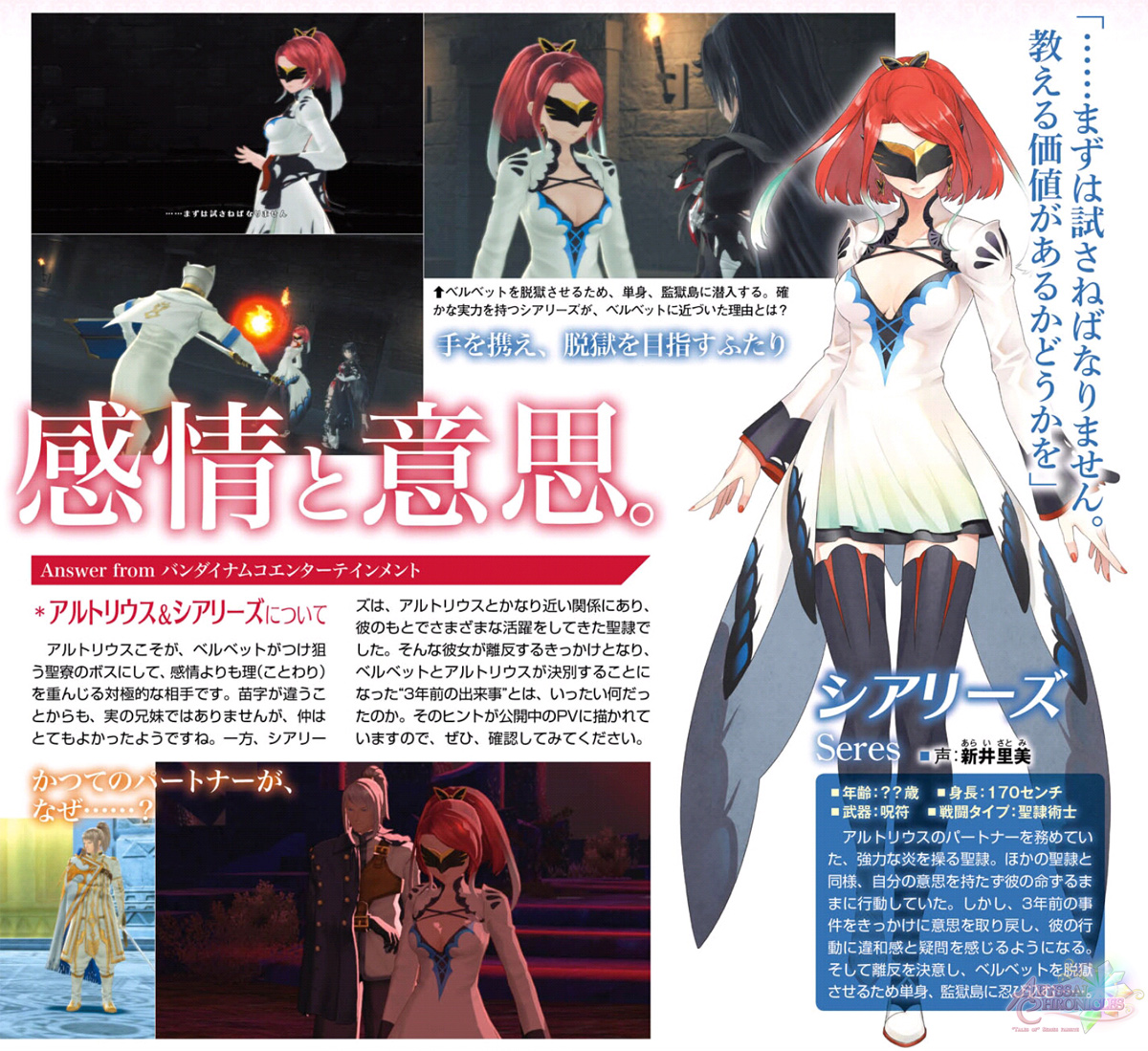 "...First, I must test you, whether or not it will be worth my while to teach you."
Age: ???
Height: 170 cm
VA: Satomi Arai
Weapon: Amulet/Charm
Class: Malak Mage
A powerful Malak who can brandish the power of flames and who works for Artorius as his partner. Since the incident 3 years ago, she has begun to regain her will. She snuck into the prison island alone in order to break Velvet out.
---
The scans also feature more powerful enemies that the party can encounter in-game:

First Class Enemies - Powerful Daemon enemies that can be found scattered throughout the world. Defeating them will garner the player rare and valuable items.
Wandering Enemies - A special type of enemy that will appear after a battle once conditions are met. They are much more powerful than the First Class enemies.
---
And aside from the Waiter / Waitress minigame, one more minigame has also been added: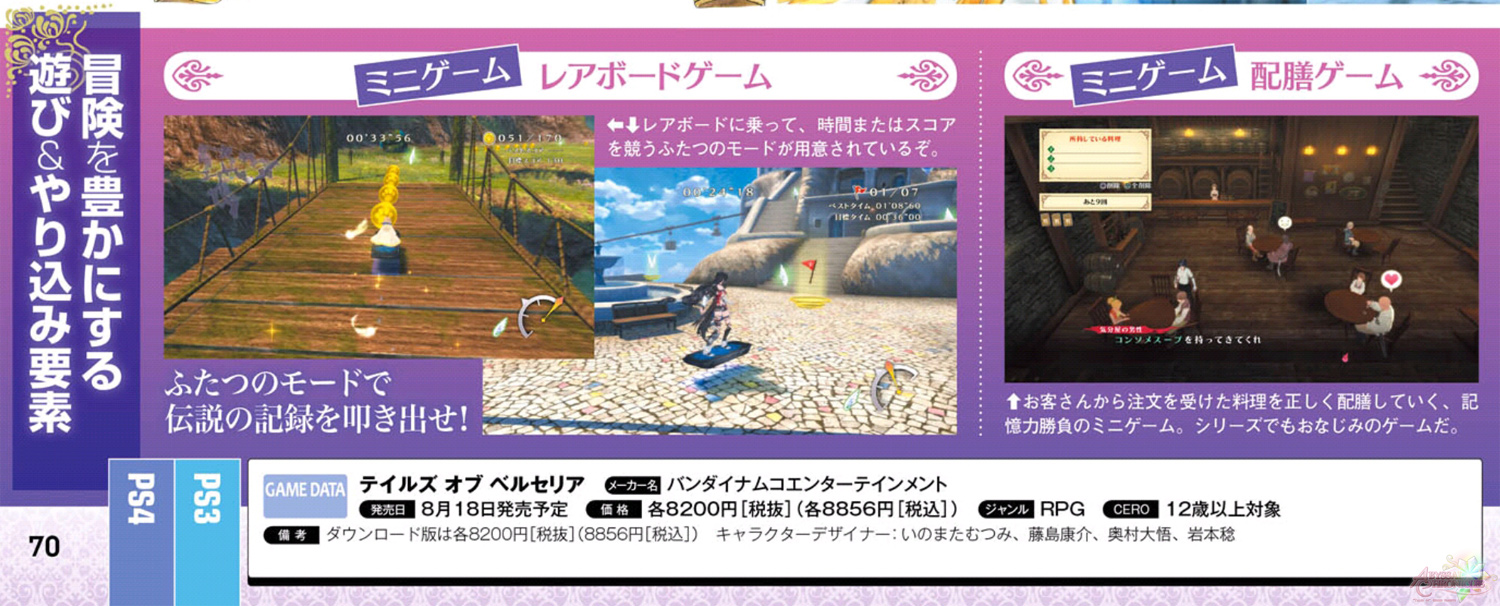 Rare Board Minigame - A minigame that utilizes the Rare Board. It'll come in two modes, time-dependent or score-dependent.
Waiter / Waitress Minigame

- Everyone's (arguably) favorite minigame of serving customers with indecisive minds about their ridiculous orders.
---
This particular issue of Famitsu will officially be released tomorrow. Better scans will be added to this very post by tomorrow. The post has been updated with clearer scans.
Tales of Berseria

Tales of Berseria
is the latest mothership title of the Tales of Series which was first announced during 
Tales of Festival 2015
. The game was released for both the PS3 and PS4 on August 18, 2016 in Japan, January 24, 2017 in North America and January 27, 2017 in Europe for the PS4 and PC. The game features a female protagonist named Velvet and a theme of pirates and ships. It's also confirmed as a distant prequel to
Tales of Zestiria
.