Yes you read that right. This event isn't just an excuse to dress characters in bridal gowns. Yuan and Martel are officially getting married! A few other girls get to dress up fancy as well.

The final event Tales of The Rays is holding in September is the last one shown in the preview earlier this month. It's an autumn garden themed wedding event. Surprisingly, this is the first seasonal event in the history of Rays that does not have a new character introduced. Instead, all four characters are returning. They are Martel, Chloe, Arria and Fractured Milla. This is a shocking move, but we're just coming down from a month long raid with .hack and the miracle boss challenge is still going on, so the lack of new characters does help keep players from getting overwhelmed.
This time the bride event is special. Following up on the bridal events of previous years, which were marriage themed celebrations that let some characters dress up in bridal gowns to play the part, another one is being held in Tir Na Nog. However, this time it's actually a front, Yuan wishes to surprise Martel with their actual wedding (following up on their backstory in Symphonia where they were engaged, and their introduction event in this game where they get re-engaged on Tir Na Nog.) However, this plan hits a few bumps in the road, which is of course where the player comes in to play the event.
Despite the lack of new characters, we're still getting plenty of new content. All four characters will be getting new Seasonal Mirrage Artes and new 5* weapons. Martel and Arria will get two new 5*s, while Fractured Milla and Chloe will only get one new Reverse 5* each, bringing each character's total up to three 5* weapons. The producers stated that collaboration 5*s don't count towards the three 5* limit and that characters who only have one 5* will get two at the same time. So why is Fractured Milla is only getting one new one? Perhaps they plan to give her another 5* in another event featuring her down the line. Regardless, there's plenty of new things to go around, so be sure to check out the previews at the bottom of the article.
By the way, in addition to the usual event banners, there is a new step up banner with a free first step. The banner isn't for anything new, but free is free and you may just get lucky. The rest of the steps are paid as usual, so I don't suggest taking the plunge on that.
Here's the usual list of times for this event, as well as for October's new towers. As a reminder, the Miracle Boss Challenge is still going on for the month of October as well, so be sure to check the schedule for that here.
| | | |
| --- | --- | --- |
| Event: Happy Happening Wedding | Start Time | End Time |
| Event Quests | September 30th, 14:00 JST | October 12th, 10:59 JST |
| Event Shop | September 30th, 14:00 JST | October 19th, 10:59 JST |
| Event Banner | September 30th, 14:00 JST | October 31st, 10:59 JST |
| Event Tickets | September 30th, 14:00 JST | November 7th, 10:59 JST |
| October Tower of Ancient Progenitors | September 30th, 14:00 JST | October 31st, 10:59 JST |
| October All-Out Battle Tower | September 30th, 14:00 JST | October 21st, 10:59 JST |
| Online Co-Op Unison Attack - Bride Edition | October 9th, 20:00 JST (may change) | October 11th, 23:59 JST (may change) |
The event follows the usual event format, with a new objective. Like usual you want to complete all the event quests to reach the 40 AP Farming stage, then repeat that to gain currencies to but from the event shop. The featured characters give High Currency (a Bride and Groom made of Dist's robots, strangely enough), while other characters give bottles of champagne. There's also a 15 AP Challenge stage after the 40 AP stage that gives 20 dia. It's easier than the 1AP Challenge stages that give no dia (and certainly easier than the raid battles last event) so make sure to complete it in addition to farming.
Since there's no new event characters, there's no event artes in the shop. So what replaces them? Free 5* weapons. These cannot be gotten with the usual high and low currency. Instead, there's a 3rd currency represented by a ticket. Each character's first 5* is available in the shop for 30 tickets each. The main way to get these tickets is through a set of missions on the home screen, listed below.
| | |
| --- | --- |
| 5* Ticket: | Mission End Times |
| Complete 10 quests from the Happy Happening Wedding event daily | Resets Daily Until Event Ends |
| Complete 40 AP Farming Quest 20 Times | October 12th, 10:59 JST |
| Complete 40 AP Farming Quest 40 Times | October 12th, 10:59 JST |
| Complete 40 AP Farming Quest 60 Times | October 12th, 10:59 JST |
If your Maximum AP is high enough, you should be able to clear the daily quest by doing the farming quest by emptying your natural AP about twice. If it's quite low and you don't wish to spend all day playing the game, you may have to repeat the first quest a few times before you get to farming, or use AP refills to farm the 40 AP quest faster. However, this isn't the only way to get tickets. You can also get them as a rare drop in the farming quest, either from a Treasure Chest or by defeating a rare enemy spawn (Dark Turtlez, this time). So even if you exhausted all the mission options, just keep farming and you may have enough to get the 5*s! I've provided a screenshot of a ticket found in the middle of a mission for proof.


The wedding celebration doesn't just end with the event. As you may have noticed from the event schedule, or if you read the preview tweets below, there's a new co-op event planned! This time the featured characters for online co-op is every character Rays has given a bridal outfit to. That's the four featured in this event, as well as Estelle, Meredy, Mint, Magilou, Kohaku, Eleanor, Rutee, and Annie. These characters have powerful spells, AoE and unique mirrage arte effects, so co-op may be easy, or hard due to the lack of any real tank character. Either way it'll be lots of fun, will come with new badges for featured characters who don't have any, and give lots of prism rewards, so it's suggested to at least auto it a few times with CPUs if you're having trouble playing online!
By the way, a new Mirrogem deal has appeared. For 490 yen (Or $4.64 if your phone automatically converts the price) you can get Mirrogems added to your log-in bonuses, and as long as you log in daily you will get a total of 2100 Mirrogems, which usually costs almost 10 times as much! This is enough to buy a select ticket, which they come out with occasionally as well. For those who don't mind dropping a little cash but still want to avoid the perils of gambling, this is a pretty good deal.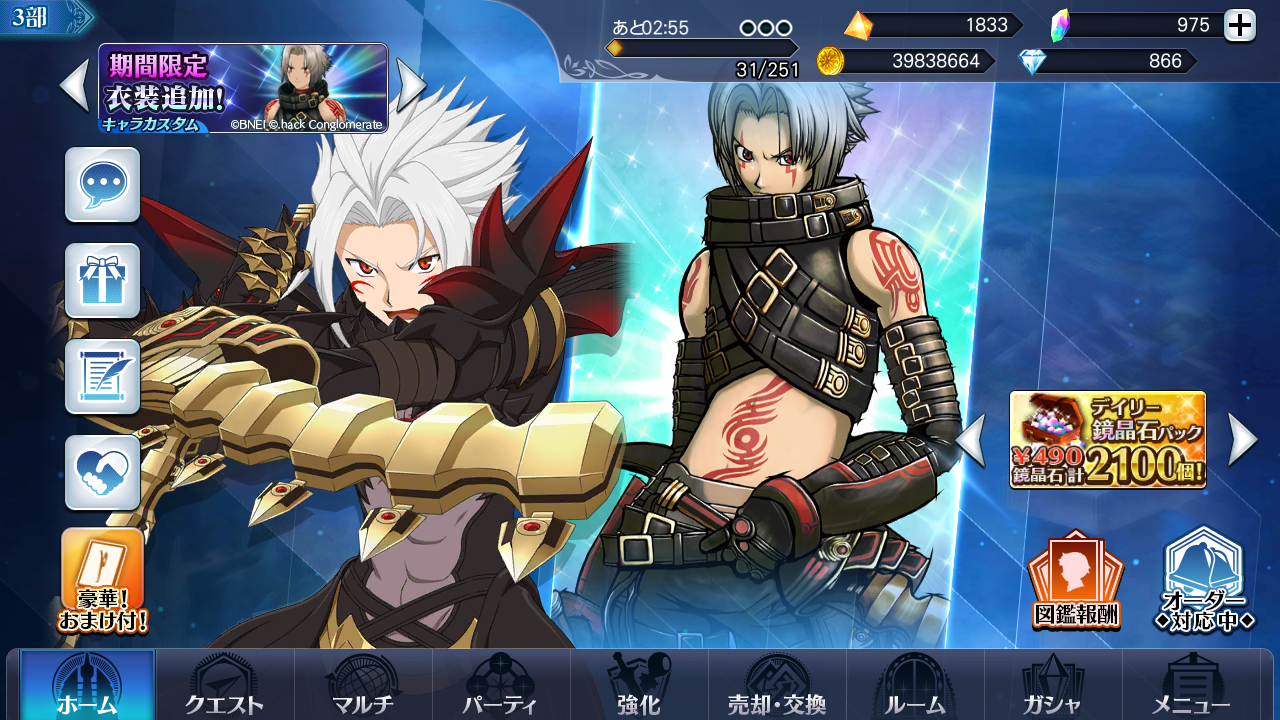 You can buy it by tapping the banner with the treasure chest icon or by hitting the plus icon next to your Mirrogem count in the top right.


Afterwards, it's the top option with the treasure chest.
Finally, here are the costume and arte previews!
【お知らせ】
こんにちは。運営です。
本日14:00~秋のウェディングイベント『Happy Happening Wedding』を開場しました。
今回描き下ろしたアーリアとマーテルの第2鏡装イラストのノーカット版を公開します
来週開催予定のユニゾン・アタックは集合画像のウェディング編です。お楽しみに。#ザレイズ pic.twitter.com/rUdfD3WKaM

— 【公式】テイルズ オブ ザ レイズ (@talesof_therays) September 30, 2020

A very nice group shot of every bride in the game, and full uncropped artwork for Martel and Arria's 5*s! It was very nice of them to release full un-cropped art we don't get to see in-game for free. This tweet also announces the bridal co-op session, so get excited for the girl's night out.
Martel
【お知らせ】
こんばんは。運営です。
明日開催の『Happy Happening Wedding』に登場するマーテルを紹介します。
ミトスにエスコートされて進むマーテルのバージンロード。その先に待つ新郎はもちろん…
一日千秋(4千年)の想いを阻むものは許されない季節魔鏡と2種類の秘技が同時実装です#ザレイズ pic.twitter.com/KJIKjfLzin

— 【公式】テイルズ オブ ザ レイズ (@talesof_therays) September 29, 2020
Here's the lucky girl herself! She's posing for wedding pictures in her Mirrage Arte, while Mithos walks her to meet her groom in the art proper. Funnily enough, there's continuity with the Casino event we had last year. Mithos' suit is the same one he wore in that event, and the road she walks on is the same one Kratos walks on for the seasonal he also got in that event. Perhaps he was eliminating anyone who opposed the marriage...
Chloe
【お知らせ】
こんばんは。運営です。
告知です。9/30 14:00~ウェディングベント『Happy Happening Wedding』を開催します。
ウェディングドレスの撮影に少し恥ずかしそうなクロエを紹介です
精神を集中させ、巨大なケーキを一刀両断する季節魔鏡と原作の空裂斬が溜め秘技化して登場します#ザレイズ pic.twitter.com/olugXzNDun

— 【公式】テイルズ オブ ザ レイズ (@talesof_therays) September 28, 2020
Chloe's Mirrage Arte does damage *and* heals the party. Also, that sillhouette that helps her cut the cake looks familiar. Guess Chloe will hold on to those feelings forever...
Fractured Milla
【お知らせ】
こんばんは。運営です。
ウェディングイベントに登場するミラさんを紹介です。
マーメイドラインのウェディングドレスをまとったミラさんは大人の魅力たっぷりです。
季節魔鏡は剣に込めた祈りがブーケとなって秋の祝福に生み出します。
秘技は連続蹴りで敵はきりきり舞いです#ザレイズ pic.twitter.com/L35dawQEiG

— 【公式】テイルズ オブ ザ レイズ (@talesof_therays) September 25, 2020
Fractured Milla really focuses on the autumn theme this wedding event.
Arria
【お知らせ】
こんばんは。運営です。
画像のキャラ名が間違っていたので修正させて頂きました。正しくはアーリア・エクバーグです。
お詫びにダイヤを配布させて頂きましたのでご確認下さい。#ザレイズ pic.twitter.com/W67qEwlY2F

— 【公式】テイルズ オブ ザ レイズ (@talesof_therays) September 24, 2020
Arria's Mirrage Arte is Artemis Shoot, following the naming scheme Tilkis uses. Looks like she punishes her enemies in the name of the moon as well, fittingly for a character voiced by Kae Araki. Her reverse 5* Master is the classic wind spell Tempest. It's a fitting arte to give her as her source game was Tales of The Tempest! By the way, if you're wondering why there are two tweets, it's because they misspelled Arria's name in the Japanese text, so the second image corrected it.
That's it for this event. A nice relaxing event that gives happiness to characters Symphonia fans wanted to be happy for almost two decades... Enjoy it for the time being. The October Preview will be coming quite soon and perhaps Arc 4 will start as well, so stay on the lookout for more Rays news!
Tales of the Rays

Tales of the Rays
is a Tales mobile game for the iOS and Android featuring characters designed by Hidenori Matsuraba and a new ADF-LMBS (Advanced Flick Linear Motion Battle System). The game tells the story of hero Ix Nieves and heroine Mileena Weiss in the world of Tir Na Nog. Characters from the previous Tales titles appear in this game. The game initially had an English version, but was short-lived and now currently runs exclusively in Japan.