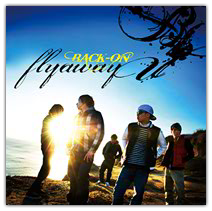 So, the PV has been posted on local streaming websites such as Veoh & Nico Nico Douga. Thanks to Sok at our forums for posting the following link in this topic:
BACK-ON - flyaway PV
Veoh
Youtube (Also provided by Sok -- Thank you! )
I'll keep the PV uploaded in our database. If the streaming links get taken off, I'll post a download link for people who wish to watch it. 
An MP3 rip was also provided by Sok on Megaupload.
You can download it HERE. =)
EDIT: Something interesting I've discovered while browsing Youtube: A commercial for Tales of Magazine Vol. 5!
EDIT EDIT: I just checked the link a day after, and it suddenly became private. )=
It's short, but it looks like it's talking about the Tales of the Abyss Anime, Tales of Hearts & Tales of the World: Radiant Mythology 2 & a Tales of Vesperia Novel & Comic! It's on sale on January 9th.
Makes me wish I had access to the magazine. D: