Tales of Arise news has been mostly nil, but it's nice to see it not completely dead.
Tales of Arise, the latest upcoming original game for the Tales of Series, has just been rated in Taiwan.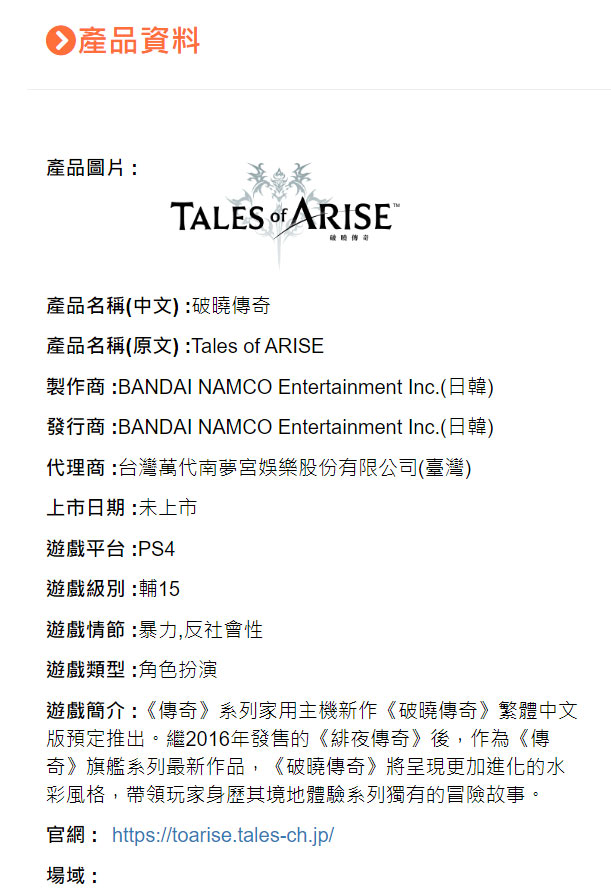 The rating given for the game in Taiwan is Parental Guidance 15 or PG15 (輔15) with notes of violence and social stigma. Shown above is the PS4 listing, with identical ones for the PC Digital and Xbox One versions.
The game has also already been rated in other areas. January of this year, the game received a rating of 12 years old and up (12+) in Korea (PS4, PC Digital, Xbox One). Last month, it received a not recommended for minors under 14 years old rating in Brazil. Australia has also given the game an M Rating (Fantasy themes and violence).
Note that having a rating does not necessarily mean that the game is releasing anytime soon, especially with the game announced as delayed. Still, it is nice to see a few updates on the game.
Despite the number of online gaming events since the onset of COVID-19, we've yet to see any additional news on the game. The earliest we're hoping to see info is during the upcoming Tokyo Game Show 2020, but even that is looking a bit bleak since Bandai Namco's TGS 2020 listing is focused on Scarlet Nexus and Sword Art Online.
Tales of Arise

Tales of Arise
is the latest mothership title (new classification: original title) of the Tales of Series which was first announced during 
Microsoft's Press Conference in E3 2019
. The game was released for the PS5, PS4, Xbox Series X, Xbox One and PC Digital via Steam on September 9, 2021 for Asia and Japan and September 10, 2021 for the rest of the world. The game features use of the Unreal Engine 4 and works on the theme of tradition versus evolution of the series.
Info Page | News | Gallery | Official Website (US) | Official Website (JP)