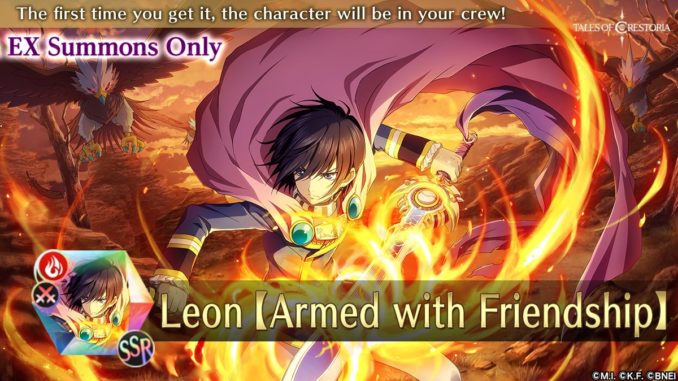 Tales of Crestoria has just announced a special EX Summons event featuring Leon! An SSR memoria stone named "Leon [Armed with Friendship]" will be added to the EX Summons with an increased chance of appearing. Like other summons, a 10x summon (costing 2,500 gleamstones) will guarantee at least one SR memoria stone. If you receive Leon [Armed with Friendship] in the EX Summons, Leon will also join your team as a character.
The maximum stats and abilities of both the memoria stone and character are shown below:
The announcement also noted that "newly added Memoria Stones will appear in the next EX Summons too," so it sounds like this might also be an opportunity to gain Dhaos [Determined Gaze], the previous EX Summon memoria stone.
This Summon will run for one week from Wednesday, September 9th, at 3:00am EDT to Wednesday, September 16th, at 2:59am EDT. Good luck!