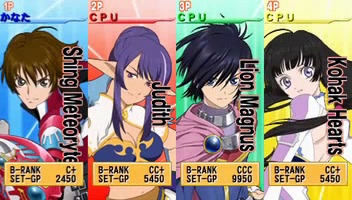 The Tales of VS. official site has been updated with a mini-section for Tales of Mobile and two new system videos, one about special battles you can access from the Internet and the Sound test option.
The Tales of Mobile mini-section talks a bit about previously revealed info. Gald you have from Tales of VS. can be transferred to the Mobile game via an ID and password system (wireless LAN connection required). You can use the Gald to customize your ToVS Mobile character. Info on your character's Gald, Grade Points and Title which can be purchased using "web Gald" (specific to the mobile application) can be viewed in your VS. game. The Gald and GP you got from the mobile game can also be used to customize your character in your PSP game. Though it is the mobile game, elements in VS. such as skits and items are also available.
The first system video talks about special battles. Connecting your PSP to the internet via wireless LAN will give you access to a list of special battles you can take. Completing these battles will give you special weapons.
Lastly, the second system video talks about the Soundtest Option. You can change the BGMs that will be playing in Single, Free Traning and Correspondence Mode Battles. BGMs will include known Tales of pieces, arranged by Namco Bandai's Sound Team, and new ones exclusive to this game title. Not all BGMs will be ready for use, as some will only be unlocked upon fulfilling certain conditions within the game. You can also just listen to the BGMs under the Soundtest Option. (A previous news post we have mentions that Go Shiina will be one of the few to make arranges of the BGMs).