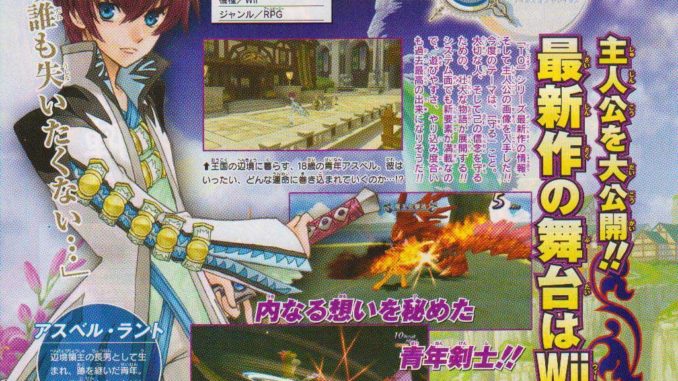 Follow-up to that post below us, thanks to Kouli for this load of new info (and yes Kouli if this is your April fool's to me I will still cry T___T). Just... WHY TODAY OF ALL DAYS?? So yeah, this still might be a prank, so let's not get our hopes up too high... The first three images lead to full scans, while the rest lead to smaller portions. Scans are from Weekly Shonen Jump.





Anyway, first off, 
Tales of VS for the PSP
, now with a scan (click third and fourth thumbnails above). It seems to be a PSP fighter game, featuring as of now, 
Richter
, 
Yuri
, 
Luke
 and 
Shing
. Supposedly going to have a Summer release.
Next, Tales of Graces (now confirmed as Graces, not Gracia). The main character is named Asbel Lant, 18 years old. He is the son and successor of a Frontier Lord. The game's theme is supposedly "to protect". Also said to have a Winter release. And Inomata Mutsumi confirmed as character designer.
Next, Tales of Vesperia for the PS3. Features a new Pirate type character who wields a knife and a gun named Patty Fleur.
And lastly, the ToV anime Movie we've been hearing so much about, will actually be centered around a story about Yuri and Flynn, and their friendship. Production I.G will be working on this film.