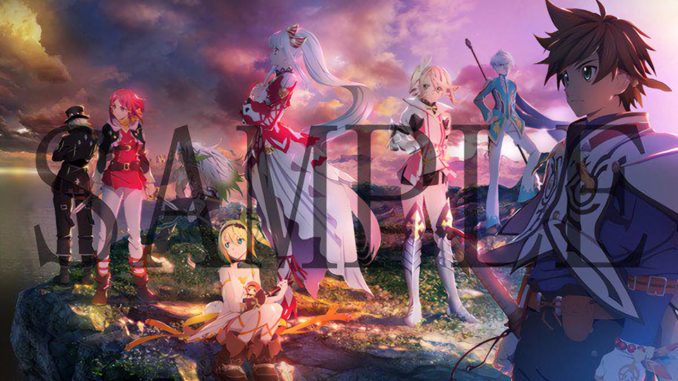 Yesterday's Tales of Festival 2016 brought with it a ton of announcements about Tales of Zestiria the X in Japan!
On August 8, 2015, another theater premiere pre-screening of episodes of Tales of Zestiria the X will take place in Japan. This is similar to the one that was held last June 25. It wasn't announced yet which specific episodes will be included in the pre-screening.
A Blu-ray box for the anime was also announced to be released this December 22, 2016. Above shows the planned jacket design for the Blu-ray box, drawn by Akira Matsushima. A better quality picture of the jacket design was also posted at the Tales of Zestiria the X official Twitter:
【Blu-rayBOX情報】本日のテイフェスにて初公開されたBlu-rayBOXジャケットイラストを公式サイトにもアップ致しました!キャラクターデザイン・松島晃描き下ろし!https://t.co/u1114WL5TB #tozx pic.twitter.com/wa9JNuecIi

— テイルズ オブ ゼスティリア ザ クロス (@TOZtheX) July 9, 2016
The Blu-ray box includes: Blu-ray including the Dawn of the Shepherd anime, trailer and commercial compilation, and clean copies of the anime's opening and ending; Tales of Asteria and Tales of Link illustration collaboration card; special booklet; and commentaries by the voice actors. The Blu-ray will be encased in a special jacket with the artwork above, with the Blu-ray encased in a 3-fold clear case.
There will be a bonuses for those ordering from the official Bandai Visual website: a Zestiria-X special music CD encased in a special 2-sided jacket case, a special storage box, and 4 pieces of illustration drawn each by Mutsumi Inomata, Kosuke Fujishima, Daigo Okumura and Minoru Iwamoto. The ones by Okumura (Alisha) and Iwamoto (Edna) have already been shown:
【Blu-rayBOX情報】公式サイト限定版にはキャラクター原案・いのまたむつみ、藤島康介、奥村大悟、岩本稔描き下ろしイラストを使用した高精細ポートレート4枚など豪華特典満載!画像は奥村大悟、岩本稔によるイラストです!#tozx pic.twitter.com/jf0vX84wWi

— テイルズ オブ ゼスティリア ザ クロス (@TOZtheX) July 9, 2016
A short commercial of the Blu-ray Box is also available on YouTube. In addition, pre-ordering the Blu-ray Box at Tales of Festival 2016 gets you a poster with a printed-on autograph of the cast:
【Blu-rayBOX情報】公式サイト限定版は「テイルズ オブ フェスティバル2016」本会場2階特設コーナーでも予約受付(15時~)致します。会場限定予約特典は「キャスト複製サイン入り番宣ポスター」特製シルバー仕様! #tozx pic.twitter.com/w2MmT57tq3

— テイルズ オブ ゼスティリア ザ クロス (@TOZtheX) July 9, 2016
The single for the anime's ending song, "calling" by fhana will be released on August 3, 2016. There will be two editions available: an Artist Edition and an Anime Edition. The anime version limited edition has a case featuring artwork of Sorey and Mikleo by ufotable, shown above. A higher quality of the cover is below:
Pre-orders are currently now open at the following shops:
As a reminder, FLOW's double A-side single for Kaze no Uta / BURN will be released August 24, 2016 and will have a special anime edition that includes Zestiria X and Berseria version music videos. The cover for the anime limited edition was revealed on FLOW's Twitter:
【最新情報】8/24発売FLOWニューシングル「風ノ唄/BURN」アニメ盤JK解禁!!! ufotable描きおろしデザイン!各店舗・オンラインショップにて予約受付中!#TOF2016 #tozx pic.twitter.com/39rrVh1iqf

— FLOW (@FLOW_official) July 9, 2016
Pre-orders are also now available at these shops. More info on the contents of FLOW's single in our previous post.:
Other Zestiria-X related events to start in Japan soon were announced, including:
A Tales of Zestiria the X Chara Pop Store (a mini booth of sorts where you play games and win exclusive prizes or shop for them) will be opening in Shinjuku Alta stores in Tokyo on August 20 and then in Osaka's Namco Nipponbashi Stores on September 2.
There will be a Tales of Zestiria the X exhibit from August 16 to August 28, 2016 at the Akihabara UDX Building, 4th floor in Tokyo under the management of Tokyo Anime Center with AruAru City.
And lastly, starting July 12, 2016, there will be a Tales of Zestiria the X cafe event at the ufotable cafes.
ufotable情報:「テイルズ オブ ゼスティリア ザ クロス」カフェ・キービジュアル発表
先ほど、テイルズオブフェスティバルで発表したカフェのための描き下ろしが公式HPに登場!https://t.co/U3ZnjTP1gR pic.twitter.com/sBVKIfJju4

— 近藤光(ufotable) (@hikaruufo) July 9, 2016
Tales of Zestiria the X
The
Tales of Zestiria the X anime
(read as "the Cross") is a TV series adaptation of Tales of Zestiria that was first announced during Tales of Festival 2015 as the "Tales of 20th Anniversary Animation". The animation is done by ufotable. The first season aired during Summer 2016, with a second season confirmed for 2017. Its tagline is "
The Journeys of the Shepherd go beyond Zestiria,
" and shows hints of connections with
Tales of Berseria
.