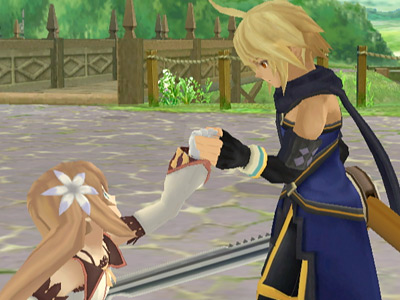 The Tales of Symphonia: Knight of Ratatosk Official Website now has new content along with a short animation at the home page. The Tales of Vesperia Official Website has also been updated.The first of this new content is a new web page titled Comment. It contains audio files of interviews with the voice cast in the game. The only interviews on this page are Shimono Hiro's (Emil's voice actor.) interview & Kugimiya Rie's (Marta's voice actor.) interview.
In the Streaming page, there is a new Promotional Video. I can't watch it here right now since I am on a school computer. It will be uploaded on our Youtube account soon for easy viewing.
In the Tales of Vesperia Official Website, there are three updates to three different sections in the website.
In the Character section (3rd menu item), the characters that Abby had mentioned in the scan from RPGmonkey of the Official Tales Forums now have their own information. It tells us that Rita is 15 years old while Karol Capel is 12.
The Story section (4th menu item) has new screenshots. All of the new screenshots displays the aforementioned characters.
The Battle tab (3rd tab) in the System section (5th menu item) is updated with 3 pages describing the game's Battle system.
The first page talks about the Evolved Flexible Range Linear Motion Battle System abbreviated into EFR-LMBS (I may be wrong about this, so correct me if I'm wrong.). The content under this talks about Fatal Strike which I cannot translate & describe right now.
The second page talks about Overlimit and... "Bastash"? I have no clue what the kana would translate into...
The third page talks about Skills and the Battle Book. It looks like Yuri is using an Azure Edge/Sohajin tech in the screenshot here.. Hehe.
All of the Battle tab pages contain new screenshots.
Links:
EDIT
YouTube - Tales of Symphonia-Dawn of the New World Trailer:May 2008
Tales of Symphonia: Knight of Ratatosk - Official Website
Tales of Vesperia - Official Website